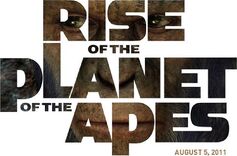 Rise of the Apes is a 2011 American science fiction film. The film will be directed by Rupert Wyatt and will be released on June 24, 2011. This will be a new film in the Planet of the Apes series— a prequel to the earlier films.
James Franco is set to play a scientist working on a cure for Alzheimer's by testing on apes.[2] When test subject Caesar suddenly begins to rapidly evolve, the scientist takes him home to remove him from the cruel lab doctors.
Franco was cast after talks with Tobey Maguire broke down.[3] Freida Pinto and John Lithgow joined the cast on June 22, 2010.[4] Andy Serkis will play Caesar, the ape that leads the revolt.[5] Tom Felton will also star as the human character Dodge.[6] As of July 12, 2010, Brian Cox was in final negotiations to join the cast.[7] According to his Twitter page, David Hewlett has also joined the cast, though he has not mentioned what his role in the film will be.[8]
Production
Edit
As of July 2010, filming has started in Vancouver, Canada.[9]
Special effects
Edit
Unlike previous films in the series, the apes in the film will be created digitally using CGI technology, by Weta Digital.[10]
References
Edit
External links
Edit